American Clean Energy & Security Act Mythbuster: Home and Building Codes
---
With the historic passage of clean energy jobs legislation last month, some critics are inventing absurd claims about the American Clean Energy & Security Act (ACES). The Select Committee on Energy Independence and Global Warming answers these false claims:
Will I need an energy audit to sell my home?
NO, ABSOLUTELY NOT. Just ask the National Association of Realtors: "The House approved bill does not create a federal energy audit requirement for real property… Leaves the decision to states as to whether to require energy audits, disclosures, etc."
Will it require an energy label when I sell my home?
NO. Again, the National Association of Realtors has found "The House"approved bill: 1) Exempts existing homes and buildings from any federal guidelines for new construction energy efficiency information labels. 2) Prohibits the implementation of any labeling during a sales transaction"
Does ACES create a Home Energy Police? People who can come into my home to check my light bulbs?
NO, OF COURSE NOT.
Does ACES mandate smaller floor plans?
NO.
I heard efficient measures and green homes are expensive and only for the wealthy?
NOT TRUE. Low cost weatherization measures — such as fixing windows and doors – can save all families hundreds of dollars annually. Meanwhile, new inexpensive, energy efficient homes are being built for low-income families in places like hurricane ravaged New Orleans. And the measure includes incentives to spur energy upgrades.

As the Realtors point out the bill "provides property owners with significant financial incentives, matching grants and tools to make property improvements and reduce their energy bills."
The building provisions in ACES will help consumers make energy smart decisions on new homes and will not impact existing homes sales. Just like when you buy a new refrigerator you can look for an Energy Star sticker, now new home shoppers will be able to factor in energy costs before purchase and this labeling will not affect the sale of current homes.
How Congress Is Helping Home Owners Save Money:
Congress is stepping up to help families SAVE money at home, work and school — where buildings consume 70 percent of electricity, 60 percent of all raw materials and 12 percent of all potable water in the Unites States each year alone. New efficiency measures in the Waxman-Markey American Clean Energy & Security Act include:
Improving Appliance Efficiency: ACES improves energy efficiency standards for appliances, lighting and furnaces.

Better Buildings: Commercial buildings receive federal support for retrofits, while efficiency measures and codes for NEW buildings would mean a 30 percent improvement by 2010 and 50 percent improvement by 2016 saving business owners large and small on energy costs.

Supporting State & Local Leadership: States, cities and towns are improving building codes to help save communities money and protecting local tax dollars. ACES offers financial support for these efforts to provide the best local solutions. The bill allocates $90 billion to states, much of which will be used on money saving efficiency programs like weatherization and building retrofits.
Building Jobs That Can't Be Shipped Overseas:
Buildings contribute over 45 percent of the pollution that causes global warming. Taking action to increase efficiency and build green will not only help consumers and businesses large and small save money – it protects the environment and creates new jobs. That's why the Building Trades Council have endorsed ACES – because building a clean energy economy will create millions of new jobs for construction workers, tradesmen, plumbers and electricians.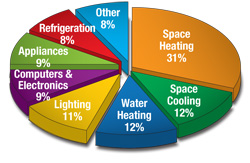 How We Use Energy in Our Homes
Heating accounts for the biggest chunk of a typical utility bill.
Tips and Tools to Help Families SAVE Money at Home:
Learn tips and tools to help cut energy waste and start saving money immediately in your home on the Department of Energy web site>>